What:
Artist Boat and The Bryan Museum invite you to explore the impact of single-use and microplastics in our oceans with a free screening of The Smog of the Sea on Thursday, May 10th in the Library at the Bryan Museum. To view trailer click here >>>
Where:
The Bryan Museum, 1315 21st Street, Galveston
Free parking available, enter off Avenue M
 When:
May 10, Two screenings at: 4 pm and 4:45 pm (approximately 30 minute run time)
Admission:
Free !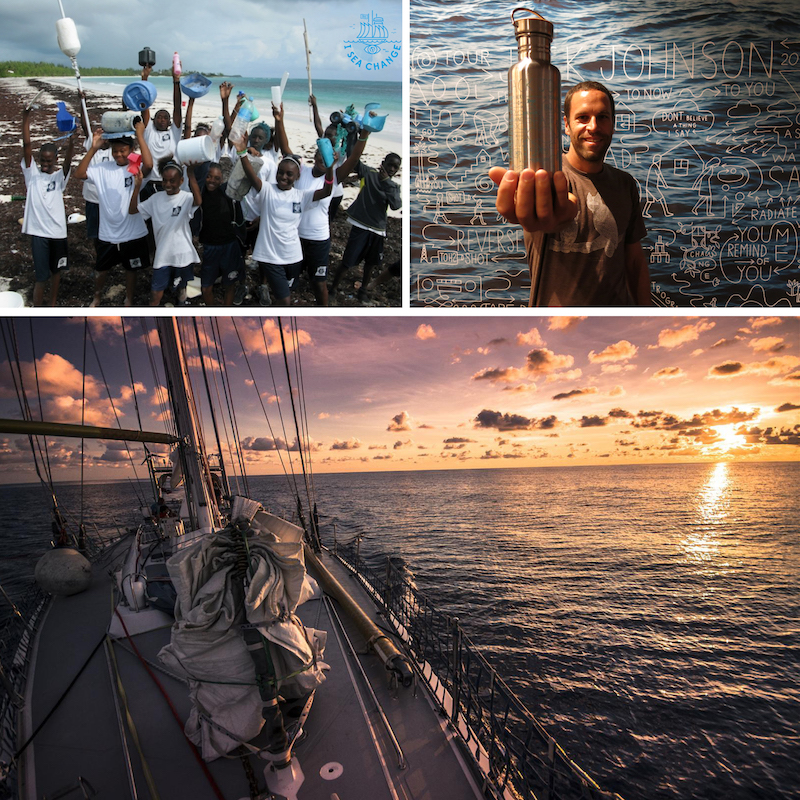 The Smog of the Sea chronicles a 1-week journey through the remote waters of the Sargasso Sea. Marine scientist Marcus Eriksen invited onboard an unusual crew to help him study the sea: renowned surfers Keith & Dan Malloy, musician Jack Johnson, spearfisher woman Kimi Werner, and bodysurfer Mark Cunningham become citizen scientists on a mission to assess the fate of plastics in the world's oceans.
"What we know now is that plastic in the ocean quickly shreds into microplastics and joins the SMOG of plastic polluting our oceans," said Dr. Marcus Eriksen, 5 Gyres Co-Founder and Director of Research. "This new research revelation is driving solution inland, to the top of the watershed where the problem starts.  But we need to return to sea, to educate crews, understand more, and monitor our successes on land."
After years of hearing about the famous "garbage patches" in the ocean's gyres, the crew is stunned to learn that the patches are a myth: the waters stretching to the horizon are clear blue, with no islands of trash in sight. But as the crew sieves the water and sorts through their haul, a more disturbing reality sets in: a fog of microplastics permeates the world's oceans, trillions of nearly invisible plastic shards making their way up the marine food chain. You can clean up a garbage patch, but how do you stop a fog?
Using super-8 footage, underwater cinematography, and live action footage of the crew's research, The Smog of the Sea provides a new perspective on the once pristine oceans, and makes an artful call to action for rethinking the scourge of the sea — single use plastic. Directed by Peabody Award-winning and Emmy-nominated filmmaker Ian Cheney (King Corn, The City Dark, The Search for General Tso).
"As someone who loves and lives in the ocean, I couldn't be more excited to have participated in 5 Gyres' SEA Change Expedition" Jack Johnson said. "I look forward to raising awareness of the importance of reducing our dependency on single-use plastics."  Singer-songwriter, surfer, and long-time ocean lover Jack Johnson has been affecting ocean health worldwide by supporting plastic-free initiatives through his social action network All At Once and his Johnson Ohana Foundation.
The three-leg expedition marked 5 Gyres' 16th expedition, having sailed around the world once already to document the global impact of plastic marine pollution. In December 2014, 5 Gyres published the first global estimate on plastic pollution, finding 270,000 metric tons from 5.25 trillion particles of plastic.
The short documentary film has an approximate run time of 30 minutes and screenings will be offered at 4:00PM and 4:45PM, during the hours of Galveston's Own Farmers Market at the Bryan Museum. Seating will be available on a first-come basis and is limited to 40 people per screening. Come out, enjoy the Farmer's Market, and learn about our ocean in preparation for Artist Boat's World Oceans Day Festival at Stewart Beach on June 8th.
Artist Boat:
Artist Boat is a 501(c)(3) nonprofit dedicated to promoting awareness and preservation of coastal margins and the marine environment through the disciplines of the sciences and the arts. To learn more about Artist Boat's fun, educational, inspiring programs that spark creativity, awareness and action visit www.artistboat.org or call (409) 770-0722. Artist Boat was selected as a partner organization for Jack Johnson's 2018 tour and between now and June 15th all donations made to Artist Boat through the All At Once Initiative will be matched by the Johnson Ohana Foundation up to $2,500. To learn more on how you can support Artist Boat with this initiative click here >>>
 The Bryan Museum:
The Bryan Museum houses one of the world's largest collections of artifacts, documents, and artwork relating to Texas and the American West.  For more information please visit www.thebryanmuseum.orgor call (409) 632-7685.
 Jack Johnson:
Jack Johnson grew up surfing and playing guitar in Hawaii.  Since 2001, he has released 6 studio albums and 2 live albums that have sold over 25 million copies worldwide. His Brushfire Records label and touring crew have been leaders in the greening of the music industry and his All At Once social action network connects fans with local non-profits at each tour stop. Jack, with his wife Kim, founded the Kokua Hawaii Foundation to support environmental education in Hawaii's schools and communities, as well as the Johnson Ohana Foundation to support environmental, art and music education worldwide. Johnson's album, tour profits, and personal philanthropic activities have resulted in over $30 million donated to charity since 2001. Visit JackJohnsonMusic.com to learn more.
All At Once:
In 2008, Jack Johnson and crew launched All At Once, a social action network and global community based on the belief that an individual action, multiplied by millions, creates global change. All At Once provides information, tools, and motivation to empower individuals to become active in their local and world community. Through direct support and a matching donation initiative, All At Once has helped raise over $3.7 million for over 400 non-profits worldwide to date, and has been promoted to a collective online community of over 6 million people. Visit www.AllAtOnce.org to learn more.
The 5 Gyres Institute:
The 5 Gyres Institute is a nonprofit organization dedicated to engaging people in design and policy solutions to end the global health threat of plastic pollution. Utilizing research-based scientific findings, 5 Gyres engages corporate partners, policymakers and the general public to reduce plastic pollution by improving product design and recovery systems and by highlighting individual responsibility for plastic waste. To learn more about 5 Gyres or to support their work on plastic pollution, visit www.5gyres.org.