Join the Bucket Brigade for Summer 2019!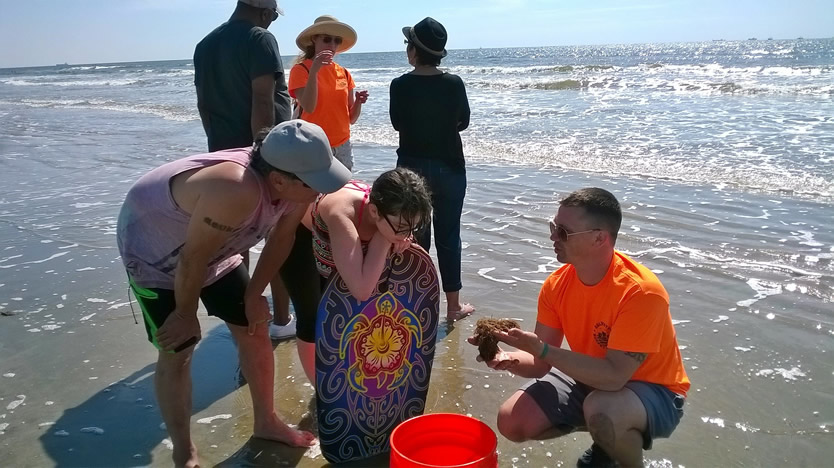 Come on out and join our team!
Bucket Brigade Volunteer Interpreters will help provide free, interpretive tours to Galveston beach visitors between March and August 2019. Interpreters will directly connect with visitors as they discuss the positive role of sargassum, the benefits of turbid water, and human impacts on marine and coastal ecosystems, as well as the creatures and features found on Galveston beaches!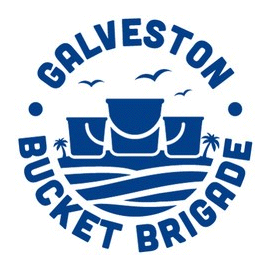 The Bucket Brigade will be returning to Galveston Beaches this summer! Bucket Brigade Interpretive Beach Tours are FREE for the public, last approximately 45 minutes, and are offered at Stewart Beach in Galveston, Texas. Look for the bright orange shirts near Lifeguard Station #6.
Tours are offered Memorial Day Weekend (Sat-Sun-Mon) through Labor Day 2019.
Tours begin and run at 9:30am, 10:30am, 11:30am, 1:30pm, 2:30pm, and 3:30pm.
June & July's schedule is Wednesday- Sunday and August is Friday- Sunday
If you have a group and want to reserve a specific tour time, at your earliest convenience you can email or call our Education Coordinator at Klaffey@artistboat.org and at (409)770-0722.
View more here >> https://www.artistboat.org/bucket-brigade/
Volunteer Trainings
New to the Bucket Brigade? We have a few scheduled training dates lined up before this season kicks off!  Contact the Education Coordinator, Karissa Laffey, at klaffey@artistboat.org to sign up. If you attended a training last year, you do not have to attend another before joining us on the beach, but if you would like a refresher you are more than welcome!
Currently Scheduled Trainings