Stay tuned for Artist's Boat Beautify the Bucket Competition for 2020!
Get on our mailing list to make sure you're up to date when Registration begins. Trash barrels are limited and they go fast! Follow us on Facebook and Instagram to see the latest as well.
Viewing and judging happens at Menard Park in Galveston, on Saturday, April 18th and winners are announced at noon. Coastal-wide Cleanup with the Texas General Land Office happens on the same day, so Sign up for the beach clean-up and make a day of it!
Since 2016, over 200 trash barrels have added to the beautification efforts on Galveston's Seawall and beaches, thanks to all of the volunteer artists, families and students.  Keep up with us on Facebook to see all of the " completed buckets". More information about how to enter is on the Registration and Information Packet so you can see what's up for next year.  Questions? Contact Artist Boat executive assistant, at: admin@artistboat.org.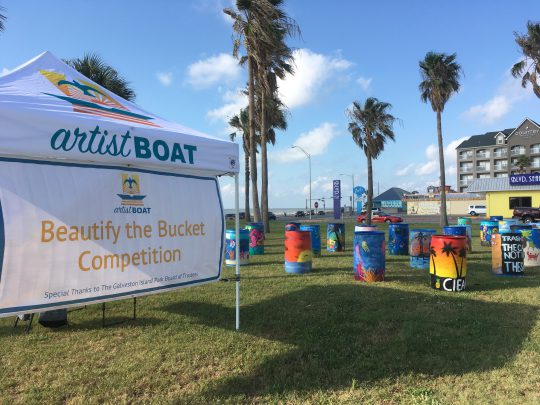 Entrants will paint blue trash barrels destined for Galveston beaches based on a theme: ocean organisms, marine debris, coastal and marine ecosystems, or Galveston recreational activities. After the competition the barrels will be placed on Galveston's beaches where they will be enjoyed by visitors and encourage proper disposal of trash to reduce aquatic trash.
Beach cleanup crews collected more than 2 million pounds of debris in 2018, according to the Galveston Park Board of Trustees. Artist Boat partners with the Park Board to emphasize environmental education, recycling and beach beautification with a number of programs, including Beautify the Bucket.
Artist Boat, a Galveston-based non-profit, has offered inspiration and education through unique coastal experiences like Beautify the Bucket, Eco-Art Kayak Adventures and other programs since 2003. Read more about at www.artistboat.org or call (409) 770-0722.